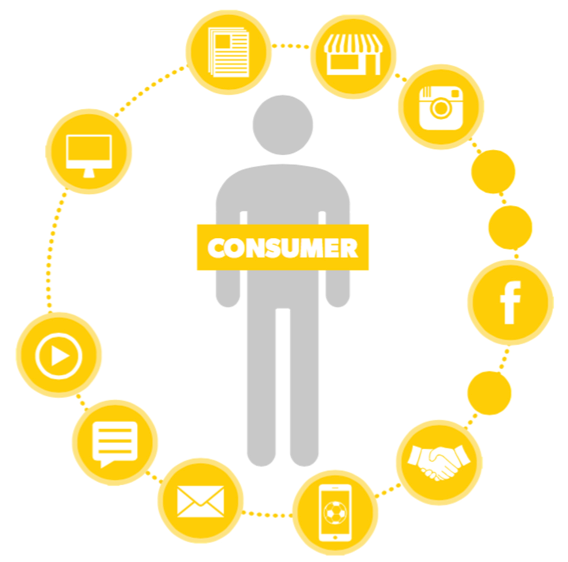 Many people only think about ecommerce and digital-in-store, when they think about omnichannel implications for fashion brands. But omnichannel revolutionises the marketing and branding conditions just as much as the sales and retail conditions.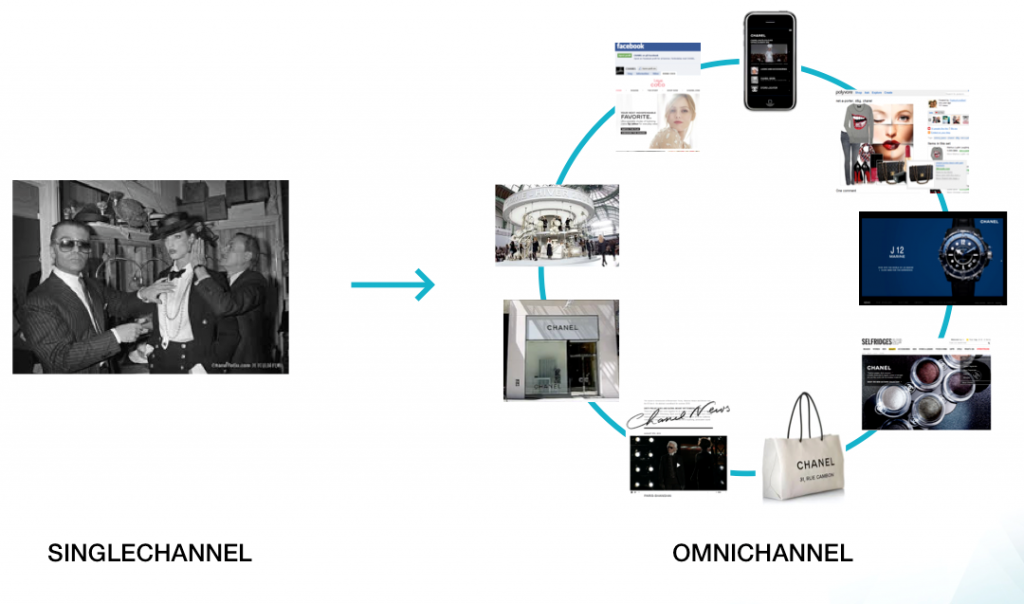 As an omnichannel strategy centralizes governance structure, channel management and decision rights, and customers become customers of the brand at a corporate level, there is a need for a strong consistent global brand image across countries: thinking globally and acting locally. This has implications for the development of a brand strategy in omnichannel retailing.
However, in order to move toward omnichannel retailing, it is not enough to align channels and create a coherent brand across touchpoints. Omnichannel also requires a strong brand with a clear brand position. Weak and undefined brands would not hold up in the transparent and interactive omnichannel world. Therefore, brand management is essential in an omnichannel strategy.
For example, at Hummel we had to place great emphasis not only on which brand message to post in the various channels but also on customizing the messages, images and purpose of interaction for each individual channel (e.g., developing a Web & Social Media Matrix). Staying very close to the Hummel customers and fans enabled Hummel to grow the community from 13,000 members in 2010 to 1.5 million members at the end of 2014. And yes, the size of a community matters, as we found that there was great value in the data, analytics and insights the company received from the community's interaction with the brand. For example, when Hummel launched "Karma" as the main brand promise in 2012, analytics showed that less than 1% of the website visitors clicked on the Karma related pages. Similarly, we found strikingly few likes on Karma posts on social media. These insights prompted the company to refine the brand strategy.
Hence, because of the emergence of interactive digital media and big data, Hummel started to co-create the brand together with fans and consumers. This underlines that a company must be open minded and flexible when developing a digital strategy for omnichannel, as it requires deep changes to develop a consumer centric approach. It is an iterative process between aligning IT and business resources with strategy: not only clarifying and aligning the brand but also reorganizing and aligning the organization for this new way of competing.
Ultimately, the Internet has rewired media, upending the traditional relationship between companies and consumers, and forcing brands to rewrite their marketing strategies. Just 5 years ago, marketing was a monologue to a passive, captive audience paging through a print magazine, for instance, the dominant marketing model was built on interruption, paid reach and repetition. Fashion brands mostly built their marketing strategies around seasonal print campaigns – and put the same campaign in different magazines for three to five months.
Today is it fundamentally different. Rather than pushing out a monologue, we need to engage via a dialog in real time across a network of platforms.  Consumers are invited into the brand house, into the community – and ultimately invited to co-create the brand. Meaning, brands do not own their brand, their own destiny any longer. They can no longer monopolise the conversation and, instead, must foster symbiotic, reciprocal relationships with others.
The ascendance of digital has also contributed to a rise in the number of touchpoints between consumers and brands, who now come into continuous contact with each other across a much wider range of platforms, from bloggers and Instagram to e-commerce sites and affiliates, resulting in more complex, non-linear paths to purchase. Popularly called the "customer journey". See an example from a Hummel customer journey: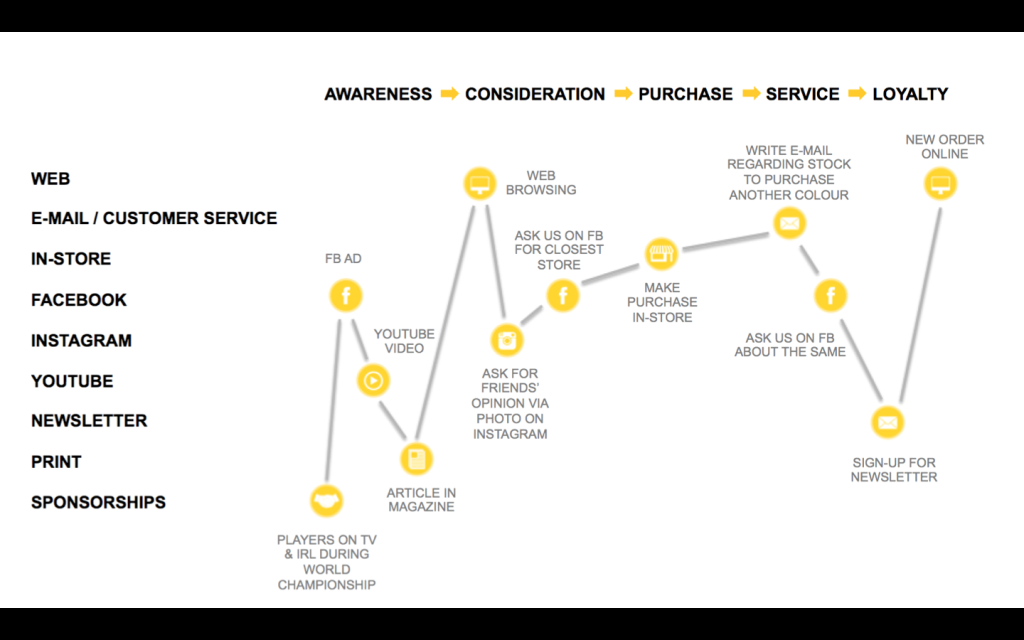 The implication is that brands need to continue building their pre-eminence over time in order to be at the top of a consumer's mind whenever a purchase occasion occurs. It is not about campaigns any longer, it is about a continuous brand-consumer relation where the process is more like a marathon than a sprint. It is very much changing brands – reshaping brands to be more like media companies than just design companies, as Christopher Bailey of Burberry famously proclaimed in 2010.
Practically, there are of course still campaigns, product launches and promotions to run in-between the daily engagement with the brand community. At Hummel, we made sure to have an omnichannel approach to all campaigns, so that the message was rolled out across all touchpoints in a customized manner (with adherence to the Web & Social Media Matrix). We carefully allocated budgets for each campaign and promotion throughout the year, which in turn would allow us to plan the reach per channel. This means that the omnichannel media mix you see below would be customized for each campaign and promotion.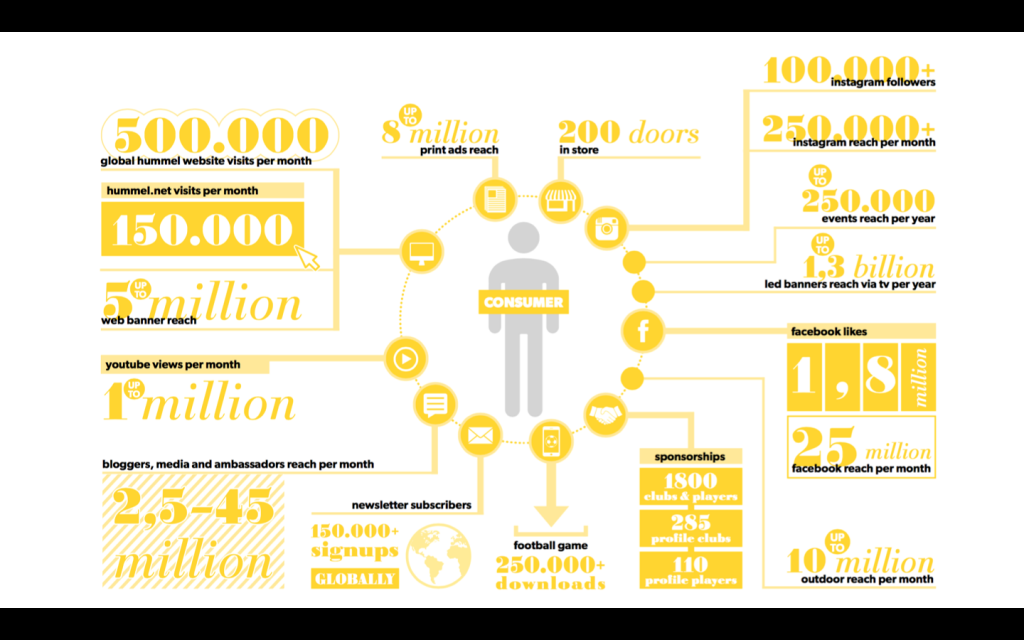 You are welcome to read more about the subject in my research papers and PhD.
See also the highly relevant post from BoF: http://www.businessoffashion.com/articles/fashion-tech/the-digital-iceberg-luxury-fashion-marketing